Welcome to the Town of Somers Human Services
Our staff are dedicated to providing holistic services to promote the well-being of Somers residents
Our Social Services Department provides the following services:
Emergency Financial Assistance
Energy Assistance
Meals on Wheels
Holiday Toy Program
Back to School clothing/backpack program
Salvation Army programs
Information and referral
Crisis Intervention
Utility Assistance
Case Management
Farmers' market vouchers
CHOICES counseling (Connecticut's program for Health insurance, Outreach, Information and referral, Counseling, Eligibility Screening. )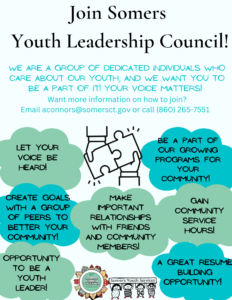 Our Youth Services department provides the following services:
Youth Leadership Council- Currently accepting nominations!  YLC Overview-final
Mentorship program
Peace at Home Parenting- Use code SomersPeace to access free parenting support! Peace At Home Parenting Solutions
Mental Health Counseling
Summer Youth Adventure Program
Truancy Referrals
Case Management
Juvenile Review Board
Positive Youth Development Programs-follow us on Facebook and Instagram for up-to-date information!

For all of the listed services, please call our office and we will gladly assist you with scheduling an appointment:
(860) 265-7551
Allison Maynard, Director
amaynard@somersct.gov
Christina Hurdle, Social Services Coordinator
churdle@somersct.gov
Aiden Matthews, Youth Services Coordinator
aconnors@somersct.gov
Erin Gately, Youth Services Clinician
egately@somersct.gov
SOMERS COMES TOGETHER: LOCAL PREVENTION COUNCIL
What is a Local Prevention Council? Local Prevention Councils (LPCs) are made up of volunteers from diverse sectors in the community including the municipal sector, youth, parents, grandparents, business leaders, educators, law enforcement, faith based organizations, healthcare professionals, concerned citizens and other organizations. LPCs work to raise awareness about substance use and its impact on the community by planning and implementing educational  opportunities, local media campaigns, and other events around the topic of substance abuse prevention. In addition, they look to address policies at a local level that may have an impact on substance abuse. Participation in an LPC is an opportunity to make positive changes in your community, meet other committed community members and participate in engaging activities ranging from program planning to positive youth development activities. For more information about joining Somers Comes Together, please email SomersComesTogether@somersct.gov.