SOMERS SENIOR CENTER * 19 BATTLE STREET SOMERS CT 06071 * 860-763-4379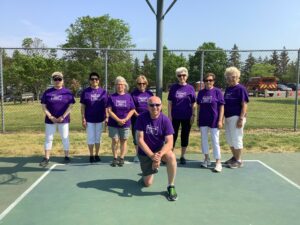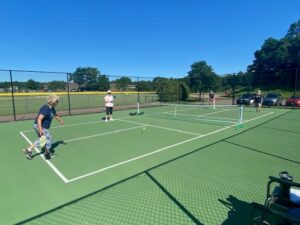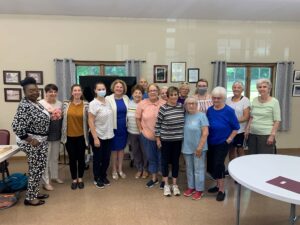 The Town of Somers Senior Center is open to all residents ages 55+.  All seniors are welcome! It is our goal to create a warm and welcoming environment where seniors feel at home and can take part in social, educational and recreational activities.
Hours:  Monday-Thursday 8am-4pm and Friday 8am-12pm  or by appointment 
For more information on programs, and how to register please contact the Senior Center
Dial A Ride Update 
Please Remember to schedule your transportation 7 days in advance when possible 
Dial a ride buses are open for all transportation needs with limited seat availability. Medical and Employment transportation will continue to take priority as we are still limited to one rider per seat. For all other transportation needs please call in advance to schedule and we will do our best to accommodate all riders.
For more information or to schedule a ride please call 860 763 4379 or email mburnham@somersct.gov 
Please find a link to the Somers Senior Center Policies & Procedures manual below:
Somers Senior Center Policies & Procedures Manual
Newsletters are available to pick up at the following locations:
Somers Senior Center * Geissler's Supermarket * Hometown Kitchen * Somers Public Library * & Somers Post Office
  Somers Senior Center October Newsletter 2021   (Click to Download & Print) 
Please click on the link above to view our current newsletter. If you are interested in receiving the newsletter by e-mail, simply call or email fhurley@somersct.gov  to be placed on our e-mail list! Rest assured your e-mail address will be used solely for the purpose of receiving the newsletter and will not be distributed.
Somers Senior Center is now on facebook!
Dates to Remember October…
Bay Path Occupational Therapy Group has moved to Thursdays from 9am-10am
October Focus is Movement! 
October 6, 2021 @ 1pm ~ Poison Control Awareness Presentation
October 13, 2021 @1pm ~ Stop in and Join us for a fun round of Set Back, Pitch whatever you call it, its sure to be fun!
October 13, 2021 @ 11am Crafting with Lisa, Register to make some creative fall pumpkins!!  *** New Group, and a New Volunteer to lead our project ***
October 19, 2021 @ 11am Free Hearing Screening with Discount Hearing
October 19, 2021 @ 12pm Sponsored lunch by October Kitchen
October 26, 2021 @ 11:30am Lunch with The Ivy of Ellington
October 26, 2021 @ 1pm Joe the History Guy presents "The Life & Times of Gene Pitney"
Save the Date for November…
November 1, 2021 @ 9am Flu Shot Clinic with Hartford Healthcare (Registration Required by 10/29/21)
November 4, 2021 @ 12pm Veterans Day Tribute with music by Tom Callinan "Thank A Vet, Patriotic Tribute"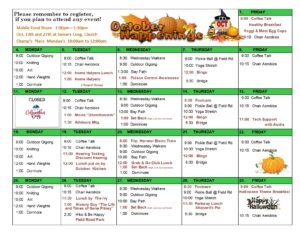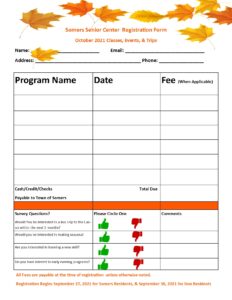 Registration Required for all Senior Center Activities ~ Call to Register ~ Open First to Somers Residents
 Dial A Ride:
Title VI Program Guide
The Town of Somers offers transportation services to residents 60+ or those who are on Social Security Disability.
Click here to view our transportation brochure
Click here for the transportation registration form
CHOICES Counseling
The Somers Senior Center offers CHOICES counseling. CHOICES stands for Connecticut's program for Health insurance assistance, Outreach, Information & Referral, Counseling and Eligibility Screening. Free and objective information, counseling and assistance is available to older adults and persons with disabilities enabling them to understand and exercise their rights, access and receive benefits to which they are entitled, and make more informed decisions about quality of life issues. CHOICES is also an excellent Medicare resource for individuals who are "New to Medicare", for example, just turning 65 years old or eligible for Medicare because of a qualifying illness or disability. Trained CHOICES staff can help consumers navigate life's stages while reducing the stress and confusion. Counselors do not sell insurance.
Meals on Wheels
If you or someone you know is homebound and unable to grocery shop/prepare meals, they may be eligible for Meals on Wheels. The program is available to residents of Somers who are considered homebound.
For more information on home meal delivery or volunteering to
We are in need of volunteers to deliver Meals on Wheels. If you or someone you know is willing to donate your/their time to this important program, please contact Christina at 860-265-7551 for more information.
Staff
Jillian Connors, Senior Center Supervisor   jconnors@somersct.gov
Florence Hurley, Senior Center Coordinator Fhurley@somersct.gov
Melinda Burnham, Dial-a-Ride Coordinator/Driver mburnham@somersct.gov
Ed Hart, Dial-a-Ride Driver
Donna LaVallee Dial-a-Ride Driver
Physical Location:
Somers Senior Center
19 Battle Street
Somers, CT 06071
Mailing address:
Somers Senior Center
19 Battle Street
Somers, CT 06071
Senior Center Phone:
(860) 763-4379
Senior Center Fax:
(860)763-8229